Own The Change | Invest in Bhumi
Everyone should have the opportunity to invest in the brands they love
Note from the Founders - Vinita & Dushyant
We are inviting you to stand with us side by side to own a part of Bhumi and be the change together as we create a powerful shift in the textile industry. After careful consideration, we decided to raise capital via equity crowdfunding (on the Birchal platform), which means we are offering everybody who believes in our vision to become a part of it (i.e. a Bhumi shareholder). This investment will allow for growth, new product lines and international expansion. We believe ... through this, we can create more positive environmental and social impact.
Why are we doing this now? Well, it has been a labour of love for years of hard work starting with small personal savings and simple beginnings. We are humbled by how much Bhumi has grown to an incredible community which is fantastic to see the rise of conscious consumers. So now we need to meet our customer needs, improve efficient customer service and swift global delivery without compromising any part of our ethical supply chain.
We are very excited to invite YOU to be a part of the journey, have the opportunity to invest in Bhumi and as shareholders to have a say in the positive future direction and growth. We look forward to you joining us on our journey and welcome any questions you have. Thank you for all the love!
Create a sanctuary of wellness and comfort in your bedroom with bedding that is free from chemicals and toxic dyes. With our blankets and sheets you will have the ultimate cocoon for sleeping and restoration.
Your basics is the closest thing against your skin all day and night absorbing sweat, the toxins released from the body and everything that you put on your skin. We have created an Organic Cotton Basics range from the purest fibres that is breathable, antimicrobial with no toxic chemicals or dyes to leach into your skin and bloodstream.
Your time in the bathroom is so much more than just cleansing. It is a time to connect to water, to stillness, to yourself. Our bath towel range helps you to unwind as you wrap yourself in plush Fairtrade & certified organic cotton for those luxurious bliss moments.
Game On. We bring you the fairtrade ethical edit to your yoga & activewear collection. Regarding nature as the highest form of technology we use raw materials to create new fabrics and textures made from organic cotton and recycled polyester yarn derived from post consumer waste like PET bottles.
What is equity crowdfunding?
Equity crowdfunding gives people the opportunity to invest in the brands that they love. It allows a large number of people to provide money in return for shares in the company, helping the company grow and reach their potential.
How can you be part of the change?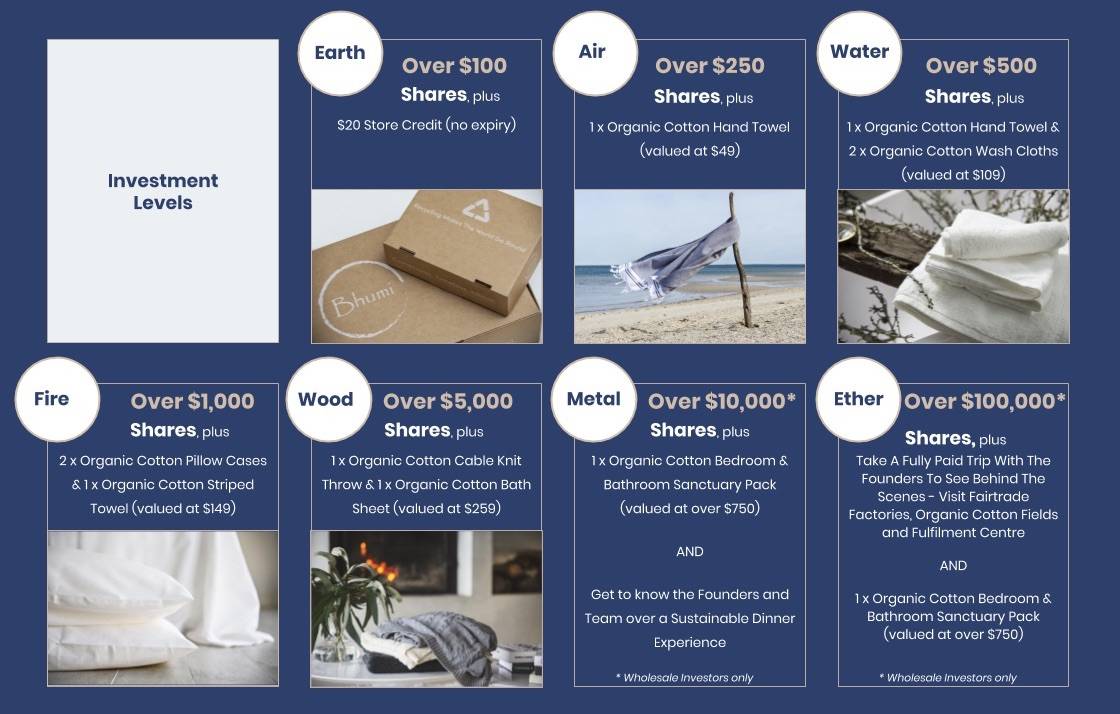 Always consider the general CSF risk warning and offer document before investing
---