I have had the wonderful opportunity to spend many moments at Edgar's Mission - a true sanctuary where the moment you enter the gates you feel and see the love for all living creatures great and small. Everyone I have taken there has been moved by the hard work and love put in, and recently I was reminded how far reaching love is when I took my daughter to the Apple Store (as she wanted me to purchase an eco and animal friendly phone case) and within moments of her asking the staff what the options were for me, these 2 wonderful sales representatives and a passionate 8 year old had had moved on to how much they love animals, watching Bosh recipe videos, Edgar's Mission and how excited they were about the opportunity to stay at The Tiny Houses and spread the message to their friends and family.
Love really does work in weird and wonderful ways. We are truly humbled and honoured to have our Bhumi products in each of the Tiny Homes and we hope the message of love, courage, compassion and choices spread far and wide.
I would like to share with you some moving words by Despina Handolias-Knappstein a beautiful soul, passionate Edgar's Mission supporter and Tiny House project co-ordinator to give you a flavour of what you will experience when you stay. We are delighted to give a lucky winner a weekend on Bhumi to experience the incredible work of Edgar's Mission, the love from all the residents there and the peaceful surrounds that lull you into sweet contemplation.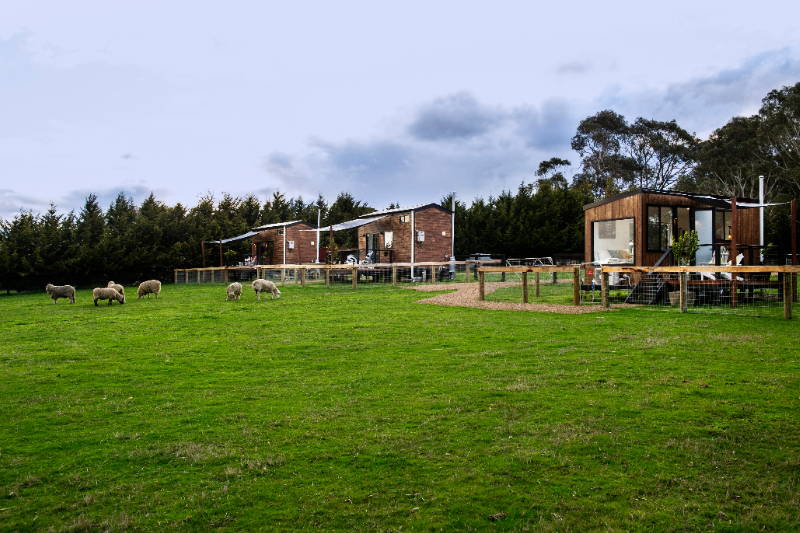 Tiny House Design Edgar's Mission - A note about the interiors by Despina Handolias-Knappstein

The tiny house interiors are intended in some ways to reflect all the animals at the sanctuary through three of their ambassadors; Edgar the pig, Timmy the sheep and Little Miss sunshine, the chicken.

Staying in the tiny houses enables visitors to experience the beauty and peace of the local environment and to observe and interact with animals who when left to live their lives in peace, are naturally able thrive and display their unique and individual personalities. The tiny houses are situated in a part of the property that takes advantage of the sweeping views across the sheep paddock to the Macedon ranges. Beyond this the exterior/interiors are subtly enhanced to represent the unique features of these ambassador animals and to reflect a peaceful "tiny farmhouse" life.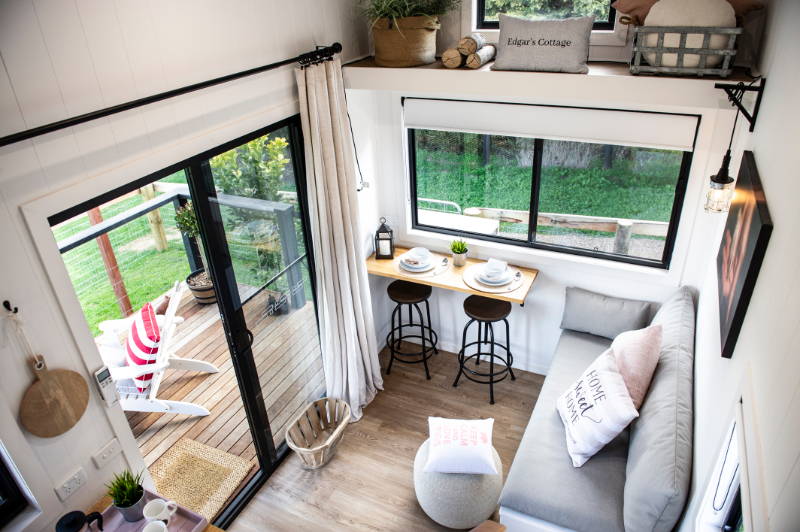 The hues and colours of the tiny house interiors were chosen to represent the physical colourings of the rescued animals and their preferred environments. In Edgar's cottage this ranges from black and pink piggy colourings to the muddy grey of their much loved wallowing holes which are reflected in the soft furnishings and décor and the blond colours of the fixtures and rugs representative of their preferred straw bedding. Whites, creams, blacks and blues with green accents dominate Timmy's villa, reflecting a sheep's natural colourings and the expansive fields under blue skies which our sheep friends love to roam in respectively. Similarly we see warm browns, greens and golden/yellow hues in Little Miss Sunshine's tiny house representative of the colourings of our chicken friends, the earth they love to scratch and dust bath in and the greens of the paddocks they prefer to roam in.

Sticks, logs and greenery are used as decorative accents and represent the mother pig's use of these materials to build nests for her young. The bookshelf in Timmy's villa opposes the notion of sheep as unintelligent animals, and is filled with classic literature. Additionally some materials that have traditionally been associated with the harm and confinement of animals are here re-purposed to provide a useful piece of storage/furnishing or as a decorative piece e.g. Concrete is used as a base for a lamp or cutlery holder, metal bars and tin sheeting is used to make storage baskets for cushions or as pendant lighting, wire is used for bowls to hold toilet rolls or magazines, ropes are used to hang lanterns and to provide decorative elements to a bookshelf and wooden crates used for plant storage. These "industrialised" farmhouse looks are increasingly used and romanticised in modern day interiors and the tiny homes provide the opportunity to re-frame our approach to these materials, given that they are used in this setting to provide a pleasurable aesthetic not associated with the oppression and exploitation of animals.
The materials used for bedding and soft furnishings are free from animal fibres and the bathroom and kitchen products for guest use are sourced from companies with similar value alignment - Bhumi Organic Cotton for bedding and towels, Aesop personal care products and Earth's Choice cleaning products. Books are provided for guests to take a closer look into the lives and personalities of these animals. Additionally guests have the opportunity to explore life on the sanctuary, which will also provide insights into their curious, fun loving and protective nature in addition to their intelligence and understanding of each other and their surroundings.

Overall there has been thoughtful consideration into decorating the tiny houses to provide the guest with subtle insights into not only the individual characteristics of the ambassador animals but of their wish to be free from the harm and confinement and of their desire to do what comes naturally to them. The expansive decks added to the tiny houses provide the guest the opportunity to reflect on these desires of our animal friends to roam happily and freely together in the expanse of the grasslands and amongst the backdrop of the blue skies and white clouds. These considered elements might not be obvious to the guest at first but perhaps become apparent as they reflect on their stay over time.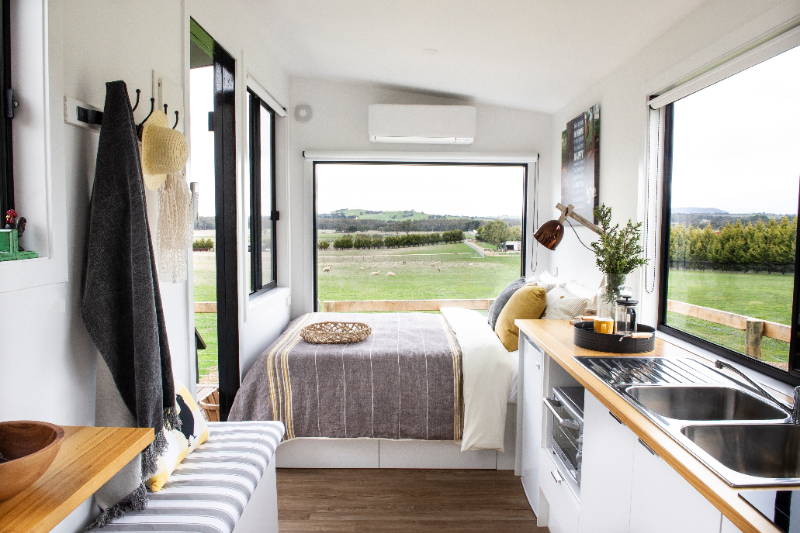 About the Author: Vinita is the Founder of Bhumi Organic Cotton and passionate about an Earth Life Balance